Our class was wild over our two week literacy unit surrounding the Iditarod Sled Dog Race!  We challenged our favorite musher by counting each page we read during the race as a mile on our giant map of Alaska.  We devoured all kinds of fiction and nonfiction mushing books. We discovered more about nonfiction graphic sources, and we ended every day dancing to "I Did, I Did, I Did the Iditarod Trail."
The Iditarod
I slip past the teams.
I swoosh on the ice.
I love dogs.
It is so much fun to race!
I am the bold musher.
To celebrate the first day of spring, we romped about in the mud, brainstormed words using all our senses, and wrote about mud season in New England.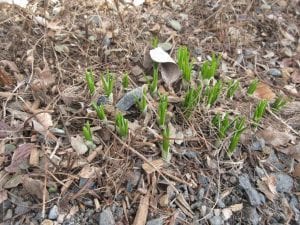 (Photo by Rat)
The Dirty Floor
The snow is melting.
The chickadees are singing.
The sun is shining.
It is almost here.
I am packing up my stuff.
I am sorry you have to go,
With your fluffy snow and your cold breeze.
You'll be back someday.
Spring is here.
Tiny beads of green are popping out of the springy dirt.
I'll miss you, Winter, but you have to go now.
And then . . . . on the second day of spring . . . .
Three things you should know about me are that I have one rat named Cinderella.  Cinderella is black and white, and she likes jumping.  Second, I like to do tap.  I do tap every Wednesday, and it's really fun.  We learn new stuff each time we go.  Third, my dad has a pet pig.  She can twirl, jump, and sit.  I can't wait to read what you write in the new blogging challenge!